Thomas Crowley
Lighting Designer
Lighting Designer Thomas Crowley will create the perfect LED Lighting Design layout for your project. According to Tom: "The key to superb outdoor lighting is to hide the light source. Lighting is all about the effect and it definitely influences our mood. If a house is dark and gloomy at night, it has a powerful negative impact on us. Conversely, a well-lit home elevates and inspires us".
Tom is an artist who paints with light. When Tom is working with clients, he creates a design concept of a layered lighting look that blends different types of illumination.
These layers can include:
General Area Lighting – provides the entrance, pool deck and landscaping with overall illumination.
Task Lighting – achieved with pathway fixtures, fountain, or garden art lighting.
Accent Lighting – can be indirect wall washes that throw a diffused light upward which doesn't cause glare or shadows.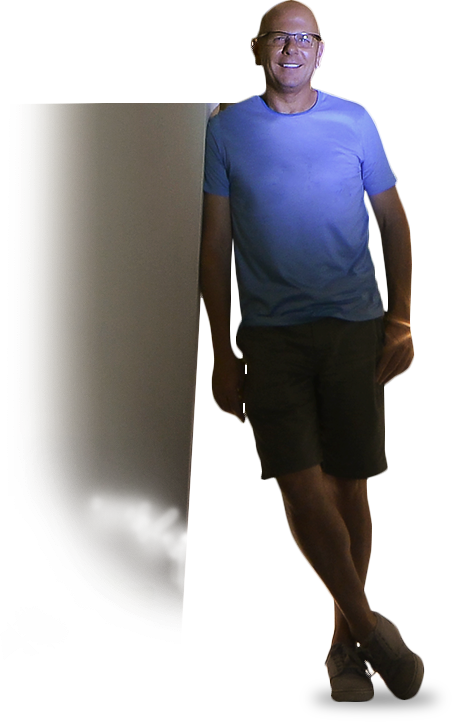 When Tom first visits a project, he takes into consideration many factors such as the street view, the interior angles, the 2nd floor viewing angles, the architectural details, the variety of foliage and the open spaces. All of these elements are paramount to the design Tom creates.
LED technology is constantly changing and improving and Tom and his staff stay educated and informed in order to ensure that you're outdoor LED system is state-of-the-art. There are an increasing number of fixtures and bulbs currently on the market. Tom works with each client to help them through the daunting task of choosing the right fixture and bulb type, size, brilliance and color temperature—all of which are critical to create the perfect picture effect.
Tom not only designs the systems but will also be there on the day of installation to ensure that every fixture is correct and positioned perfectly.
Tom works with many landscape architects, general contractors, interior and exterior designers from beginning concepts to the final installation. He knows how to keep a project on budget and still provide a superior lighting design.
Below are a few of Tom's favorite styles of lighting…